Our Instruments
Non-Fretted
Huntsville Strings Shop deals in fine stringed instruments. We currently carry a large selection of violins, violas and cellos. The stock on hand ranges from new, professionally crafted violins to expertly made vintage models. These fine instruments come from a number of different German, French, American, English, Chinese & Italian makers.   The instruments we have in stock are individually hand selected by our buyers in Nashville.  Then they are then properly set up by professional players.  Our inventory is constantly in transition as instruments and bows are bought, traded and sold.  It is our goal to provide the best sounding violins and other instruments for the best value.
Your Investment Is Protected
Huntsville Strings Shop partners with The Violin Shop in Nashville, TN for instruments and bows. If our current stock does not meet your need, we can have items from the Nashville store brought to Huntsville for you to try.  Also an instrument purchased from Huntsville Strings may be traded-in toward another instrument at Huntsville Strings Shop or at our partner store in Nashville if it originated there.  You will receive credit equal to your initial purchase price toward your new instrument (less re-stocking fee).
(Click on image)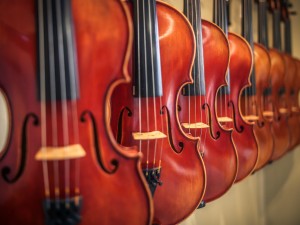 Fretted Instruments
Huntsville Strings Shop has acoustic guitars by:
Larrivee     Blueridge      Bristol      Teton      Recording King     Austin      Cordoba      Ortega

(click on image)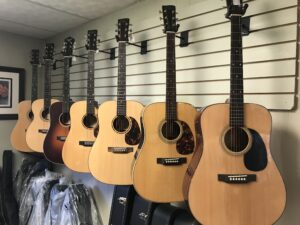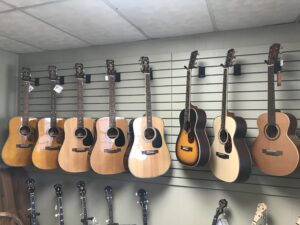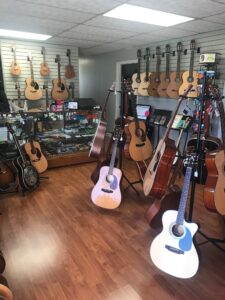 We carry these banjos:
Deering       Goodtime       Recording King       Gold Tone         Rover
(click on image)
Mandolins and Ukeleles:
Kentucky      Loar       Michael Kelly       Cordoba        Diamond Head      Ortega    Teton
(click on image)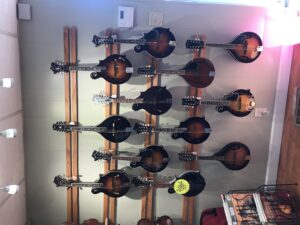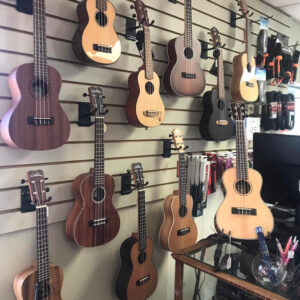 Check back soon for more varieties of other fretted stringed instruments.
We also carry strings and accessories for many types of stringed instruments.